With school around the corner and students slowly streaming back into
Athens
I am reminded that
football season
is almost here! And in the south there is only one thing almost as important as winning - what you wear to the game. I thought I'd round some fashion inspiration for looks outside "the hedges":)
August + September
:
Let's be real- the heat can be outrageous during the first few home games. The trick is staying cool without looking scantily clad. You'll beat the heat in
light colors
and
lightweight material
.
I'd recommend wearing
white
and rocking red & black accents. And don't forget the most important accessory:
sunscreen
:)
October + November:
October is still pretty warm in Georgia so you can get away with shorts (or
mini skirt
) and a button down. As the weather gets cooler at night this
bulldog sweater
would be the perfect top.
J.Crew has a cute
polka dot sweater
that would do the trick for those chillier night games as well. And you can't go wrong with red & black flannel (or
gingham
), paired with black skinny jeans or a
maxi skirt
.
Outdoor Bowl Game:
I hope I'm not jumping the gun, but I think it's safe to say the Dawgs will make it to a bowl game and depending on the venue, it could require extra layers for warmth. I love a chunky knit scarf paired with graphic sweaters.
Cupcakes & Cashmere
features a
similar look
to
Blair's
on the right or you can try out the complete
ensemble
. Don't you love how she layers a denim jacket under a colorful peacoat?
The National Championship: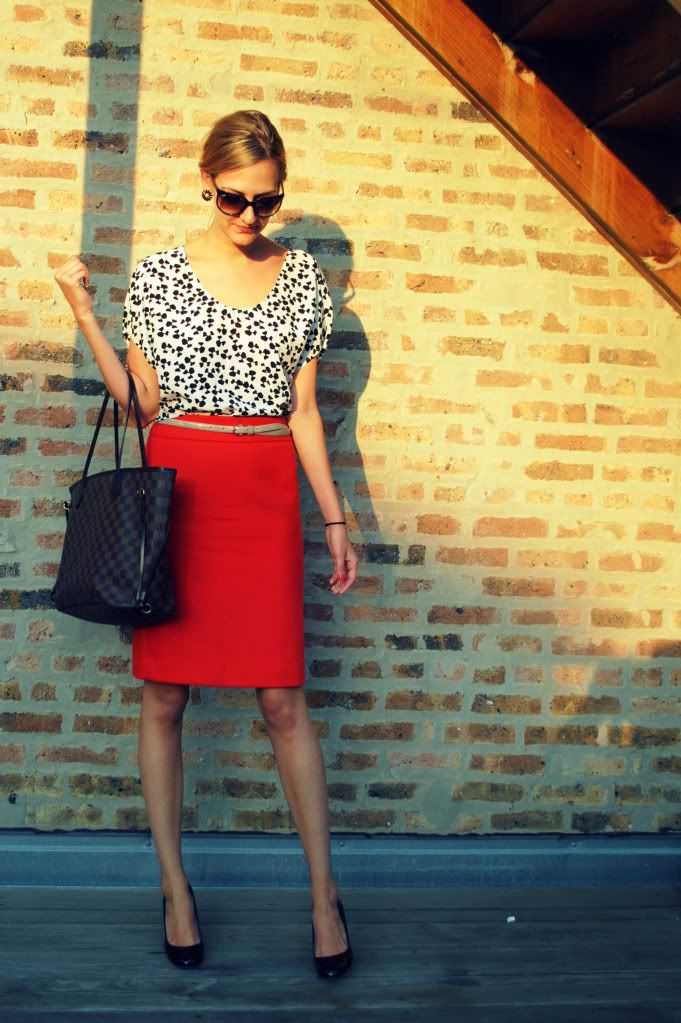 An
alumni
can dream right? And if we make it that far it's class all the way with this red
pencil skirt
. I'm not sure how many games Taylor and I will make it to, but we are looking forward to tailgating in style in the
best
college town.
P.S. Check by tomorrow for game day hairstyles!
// Photo sources: 1. via
Prepaganda
, 2. via
That Kind of Woman
, 3. via
Center City
, 4. from
J.Crew
via
Pinterest
, 5. from
shop bop
, 6. via
Pinterest
, 7. from
Gal Meets Glam
, 8. from
Atlantic-Pacific
, 9. from
See Jane
//